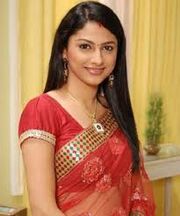 Rashi Modi(née Shah)is one of the fictional characters who plays in the Indian television series Saath Nibhaana Saathiya.
Rashi seems to be a more of a fun woman and is the complete opposite of Gopi.
Rashi is the daughter of Jitu (allegidly) and Urmila Shah and always causes trouble with her trying to make Kokila angry.
Rashi is normally nagged by her aunt, Kokila and Kokila always tells Rashi to act more grown up and be much more mature, but Rashi, then again, takes no notice.
Rashi is normally getting into arguements with Kinjal and saying that Kinjal is always lazy, angrying Kinjal.
Rashi is sometimes very jealous of Gopi and normally calls Gopi " Little Miss Perfect " behind her back, but Gopi does not realise and takes no notice.
Gopi is married to a man called Jigar, but was going to marry Ahem, but over Kokila's decision, she chose Gopi.
In 2013, Rashi's mother, Urmila stole a baby named Vansh, whom Rashi was going to adopt, so that she could give it to her without signing the papers.
Vansh's biological mother, Alka, was then trying to look for her son and then went to Rashi and Urmila to get him, but they refused, but Rashi then returned Vansh, but Alka's mother said that they should have it due to the fact that they were a lot richer than them and they could give Vansh a much more better education.
Urmila then said that Alka could still see the baby and that she could work in the mansion and then stay as Vansh's nanny and she did. A few moments later, Rashi then became pregant and Alka then said that she wanted the baby back and if Rashi didn't give it to her, then Alka would tell the whole family, including Kokila.
When the truth came out, Rashi had no choice but to give her the baby and it was returned to Alka soon.
Rashi has still not given birth to her twins.